Polc beaten first time in City Downhill World Tour 2015
Fourth stop of City Downhill World Tour took place in Bilbao, a city in Basque Country, northern Spain. Riders had three months long break from urban downhill events after race in Bratislava. There was also question in the air: Who does finally beat Filip Polc and when?
Completely new 600 meters track was designed for the race in Bilbao. Starting point was located in Extebarria's Park. New feature was brought to the World Tour – couple of port containers which formed starting ramp following with a drop at the end.
Riders were then jumping on and off buses, Considerably flat section was enhanced by jumps, turns and slalom style obstacles.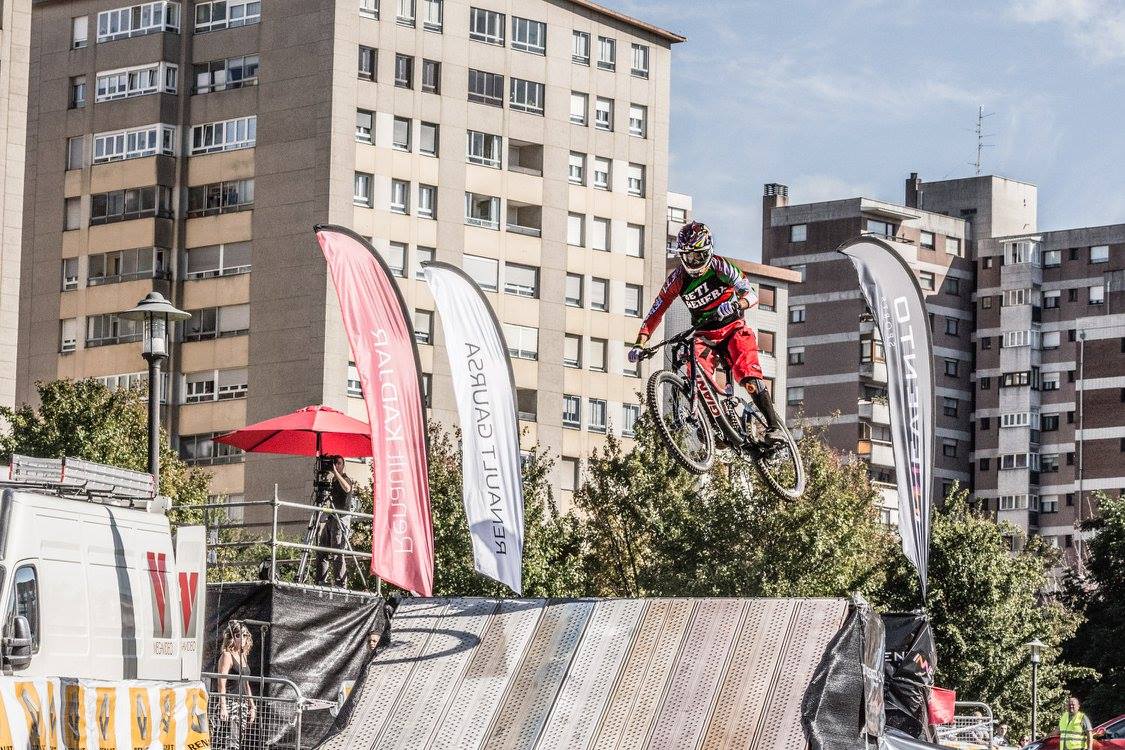 The Double was great place to catch exceptional pictures.
Views on the city were spectacular from riders perspective.
Second part of the track brought changes – moving from nice tarmac section to rougher terrain with countless stairs with exception of one section where riders could rest a little.
The track ended in Gas Square finishing with double jump section.
All riders finished their runs and there was time for announcement of the race results. Filip Polc had to settle with second place followed closely by Matt Walker. The King of Bilbao, Johannes Fischbach, took first place by half a second and showed that Filip Polc needs to be aware of him next race,
Podium results:
Johannes Fischbach (GER) 0:51.86
Filip Polc (SVK) 0:52.34
Matt Walker (NZL) 0:52.41
Tomas Slavik (CZE) 0:52.83
Bernardo Cruz (BRA) 0:53.53
For more results please click here.
Win of Johannes Fischbach put fresh air into the overall standings. It is nearly impossible for Tomas Slavik to win the whole series considering pace of Filip Polc. Tomas has still chance to take overall second place in the series. Currently second Johannes Fischbach could aspire for the first place, but he needs to beat Filip Polc also in last stop of City Downhill World Tour 2015, Taxco, Mexico. One thing is clear: top three places are already divided into three riders – only places can change in between.
Standings after four races:
Filip Polc (SVK) 70 points
Johannes Fischbach (GER) 61 points
Tomas Slavik (CZE) 53 points
Bernardo Cruz (BRA) 20 points
Matt Walker (NZL) 16 points
The last race of CDWT 2015 in Taxco was postponed to 21 November. Will Filip Polc be able to keep his pace in Taxco and win overall title? Only one race to decide.
Official video from the race:
Final run by Tomas Slavik:
Photo: Bilbao International, Citydownhill.com
Source: Citydownhill.com Pinkbike.com
@urbandownhill.bike