Second stop of Czech Downtown Tour took place in Usti nad Labem
Czech Downtown Tour moved to western town Usti nad Labem. Sixth year of UL-LET race started in style. Organizer launched the event traditionally with night dual slalom race, with top contenders on the list: Ivan Kunaev from Russia, overall winner of the last year's series Alexandr Sidor, Jakub Riha, Hynek Strouha and more.
Final race between Ivan Kunaev and Jakub Riha was very close. Jakub Riha carried more speed in last sections and won by a bike length. Check the final race run from his point of view!
Main urban downhill race was planned for Saturday. More than a hundred registered riders put a number plate on their bikes. Two categories were set for the race: women and open. Women's category was filled by three racers: Simona Jirkova, Zuzana Bielikova and Iva Coelho. Category open consisted of all other categories from juvenile, through hardtail, hobby, junior to elite categories. Invitation was confirmed by one of the quickest Czech racers, Martin Lebl.
Starting point of the track was located at the same place as last year. Middle part of the track was completely changed. There were minor changes besides new line as well. A huge drop was waiting for riders at the beginning right after starting point. Landing was slightly moved, but riders managed to adapt very quickly.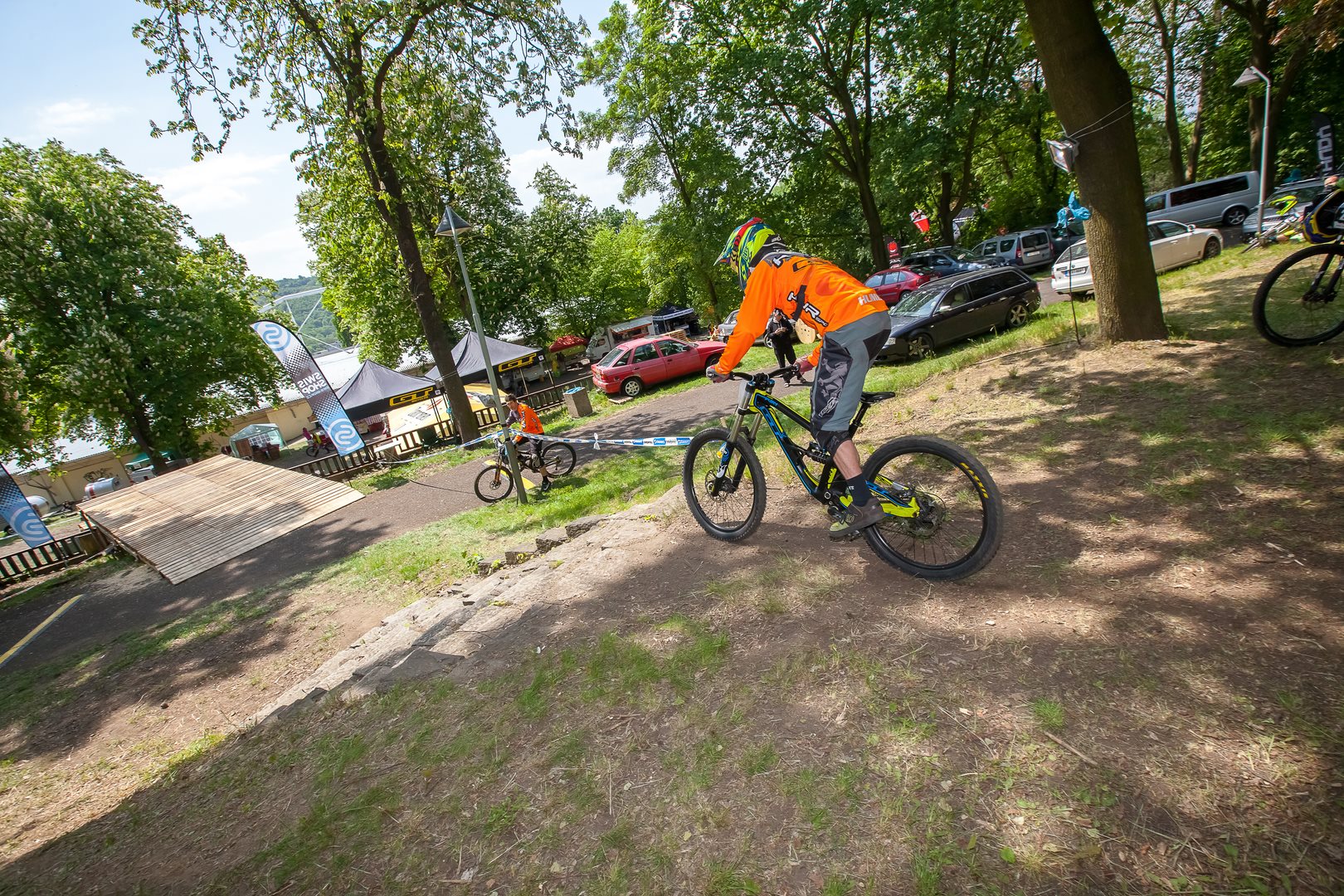 A huge jump called Mastodont was waiting for riders which was more difficult than last year. Some riders rather changed their minds after seeing main jump and chose one of side paths. Riders entered tarmac turn in high speed which was slippery and a lot of riders lost time in this section.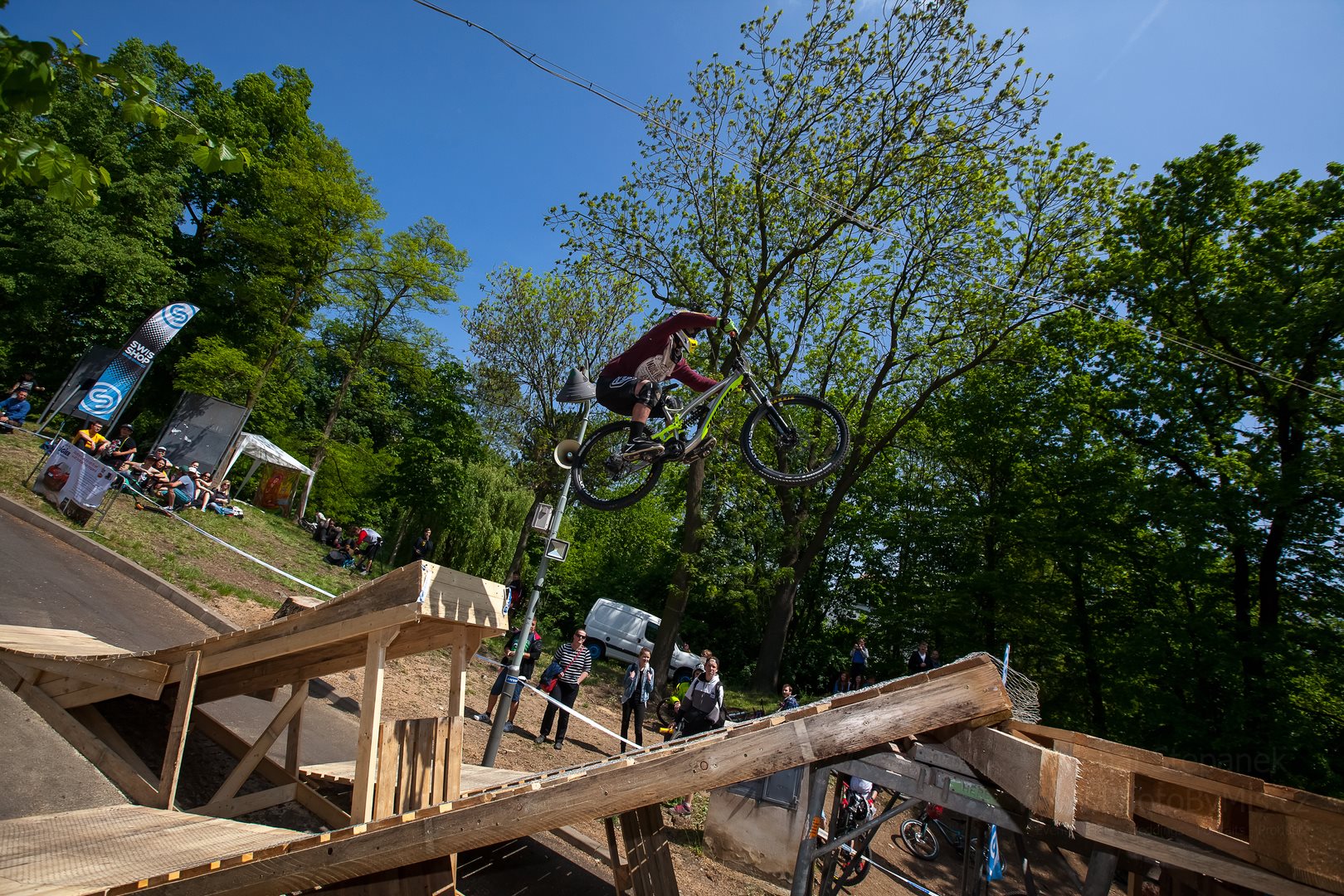 New section started with transfer jump where riders needed to chose their line carefully. Closely followed with hard-pedalling section. Riders then entered stairs section which continued all the way into the finish line where many of them jumped last stairs.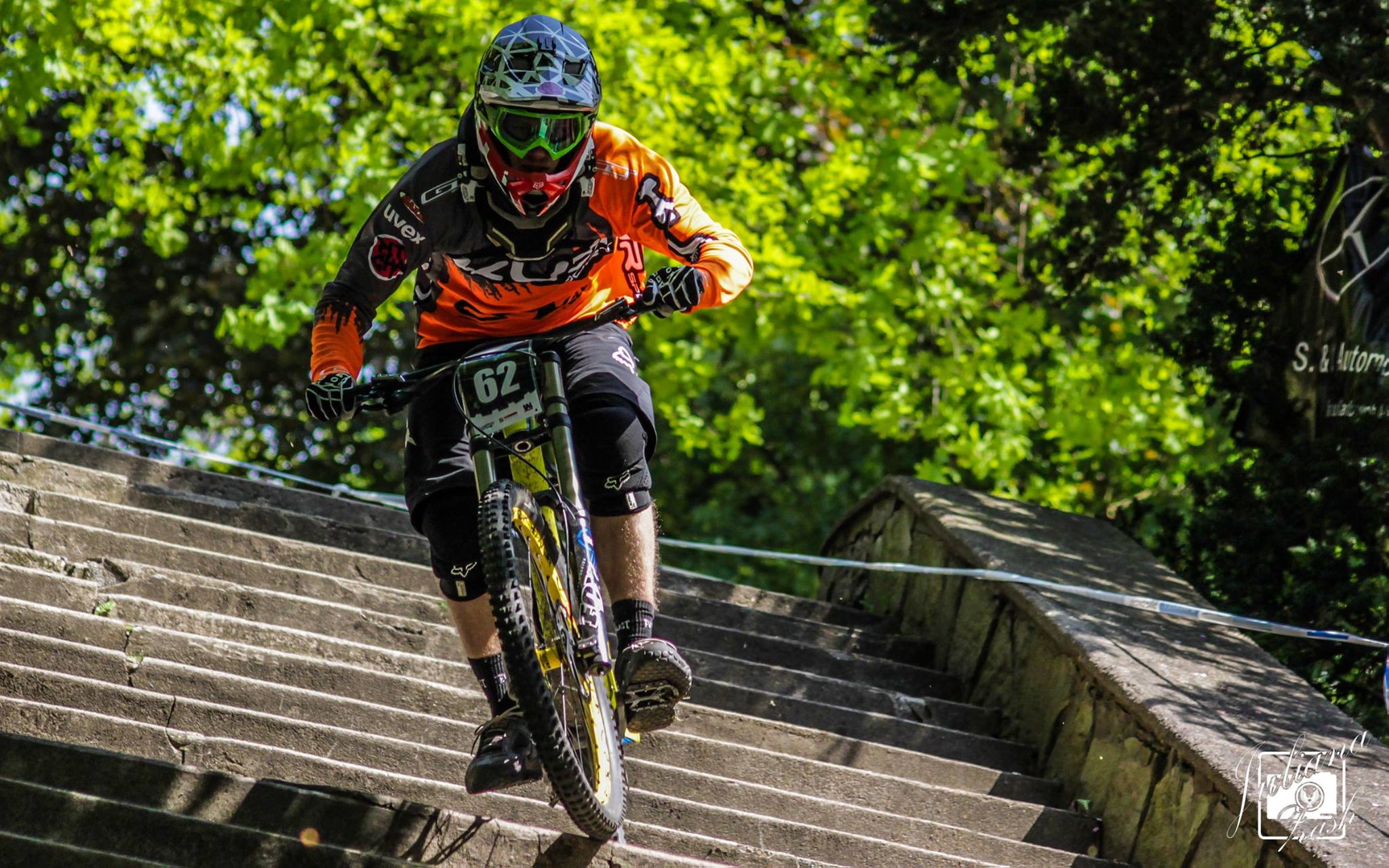 Riders registration was slower than couple of riders expected. Anyway, participation of over hundred riders was tough to handle and it is therefore understandable that there were delays.
However, everything seemed to indicate success of the event. The Sun was shining whole Saturday and there was a band playing during riders' breaks. The crowd cheered the riders wildly. While watching top contenders, they saw jaw-dropping performance.
Riders lined up for training, having approximately two to three hours to train their lines. The race rules included two qualifying runs. Final run was granted to 25 quickest riders based on better time from qualifying runs. There was only one run planned for the finals.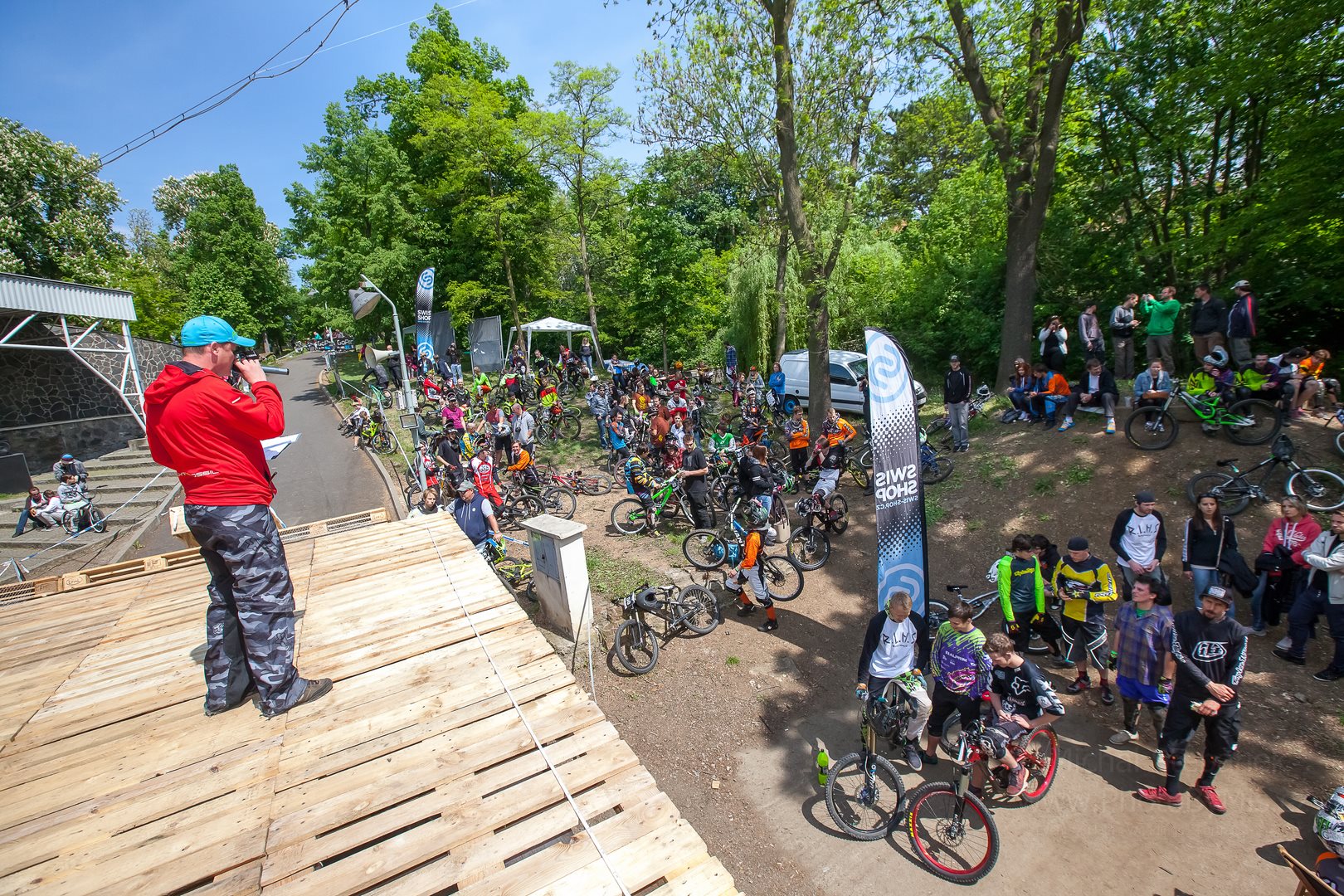 Favorite in women's category, Simona Jirkova landed on front wheel on the Mastodont jump and fell over the handlebars with result of visiting hospital. The race was over for her. Final run saw only two women. Zuzana Bielikova was quicker than Iva Coelho by four seconds after qualifying runs, but she made a mistake on tarmac turn and allowed Iva Coelho to win during her premiere in Usti nad Labem. Third place trophy was given to deputy of injured Simona Jirkova. There is first, second and third place from the left side in the picture.
In open category, Hynek Strouha could be satisfied with third place. Second place went to hardtail rider Slavomir Szmigielski. Jakub Riha came for first place and trophy with a time of 34 seconds flat. He proved his quality after close second place in dual slalom. The competition was tight, first five competitors fitted into one second. Martin Lebl ended 23rd after crash and Ivan Kunaev crossed finish line on the 8th position. His legs were probably not in best shape after dual slalom. There is first, second, third and other places from the right side in the picture.
Podiums:
Jakub Riha (CZE) 0:34.00
Slavomir Szmigielski (CZE) 0:34.19
Hynek Strouha (CZE) 0:34.71
Marek Petelik

(CZE) 0:34.83

Simon Manek

(CZE) 0:34.96
Check the track from rider's point of view:
Overall standings is slowly forming and possible adepts for overall first place of Czech Downtown Tour are already starting to fight. Jakub Riha as current leader is closest to achieve the goal.
Overall standings:
Jakub Riha (CZE) 160 bodov (80 + 80)
Marek Petelik (CZE) 120 bodov (70 + 50)
Hynek Strouha (CZE) 110 bodov (50 + 60)
Saturday's program ended with Whip contest and Bunny hop contest. Hynek Strouha won Whip contest very close before Martin Lebl. Even another round for these two riders needed to be set. Check whip of Hynek Strouha in the first picture below followed by whip of Martin Lebl.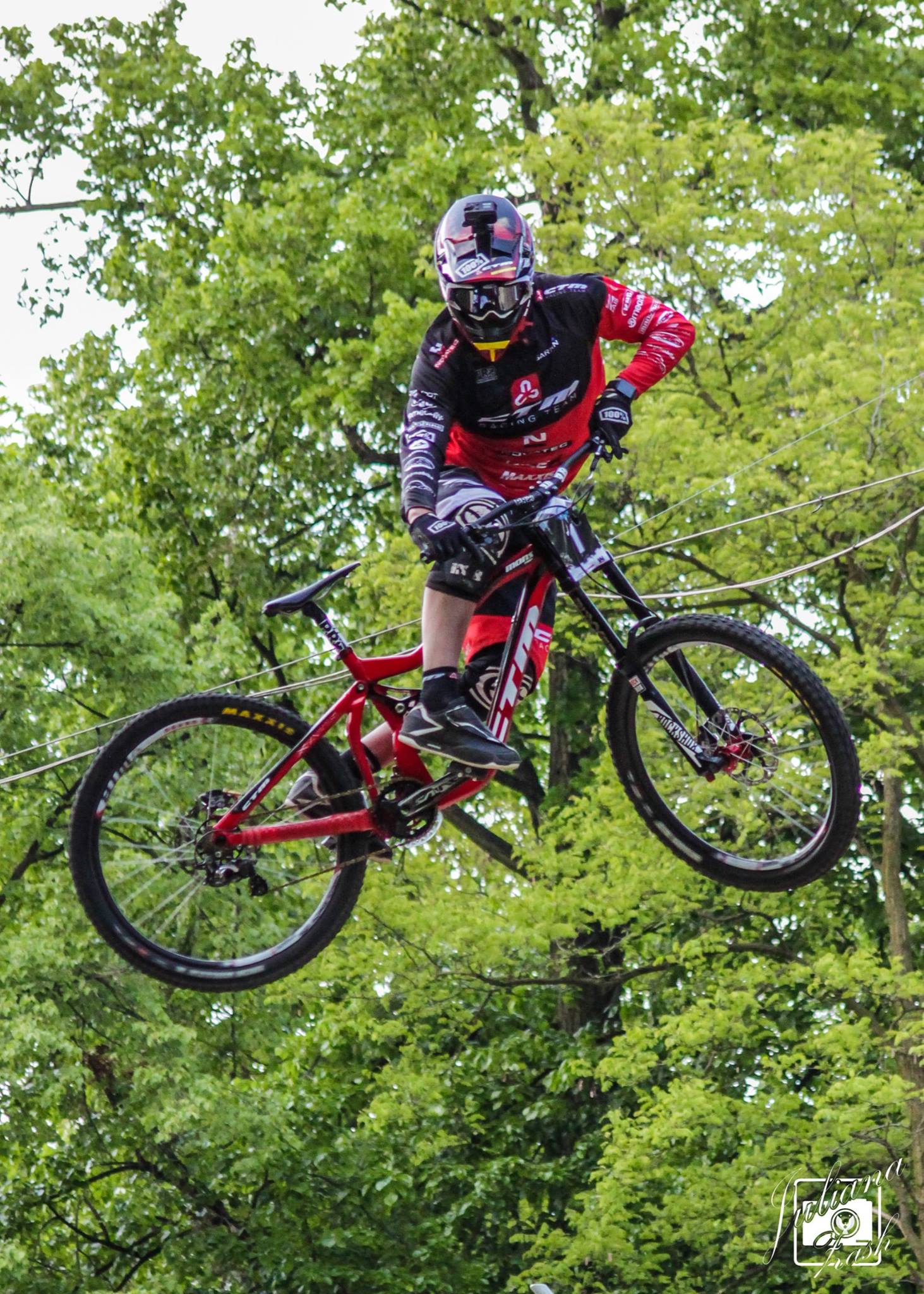 Hynek Strouha handled 95 cm during Bunny hop contest and took another trophy. The event in Usti nad Labem grows annually, this year thanks to Hand made crew as well, which is together behind the whole series. This year's Czech Downtown Tour continues with race in Rakovnik on 23rd July.
At the end, check official video from Fullface Productions:
Foto: Michal Stepanek, Juliana Zash
@Urbandownhill.bike