Bulgarian Urban DH series moved to Gabrovo
Gabrovo, a city located 45 kilometers Southwestern from previous race in Veliko Tarnovo, hosted second race of the series. The race celebrated its fourth year. Track had a little bit of everything: a wallride, drops, countless sets of stairs and gnarly finish line section.
The track started with long stairs section on a gentle slope ending with wallride. Alexander Staikov on the wallride.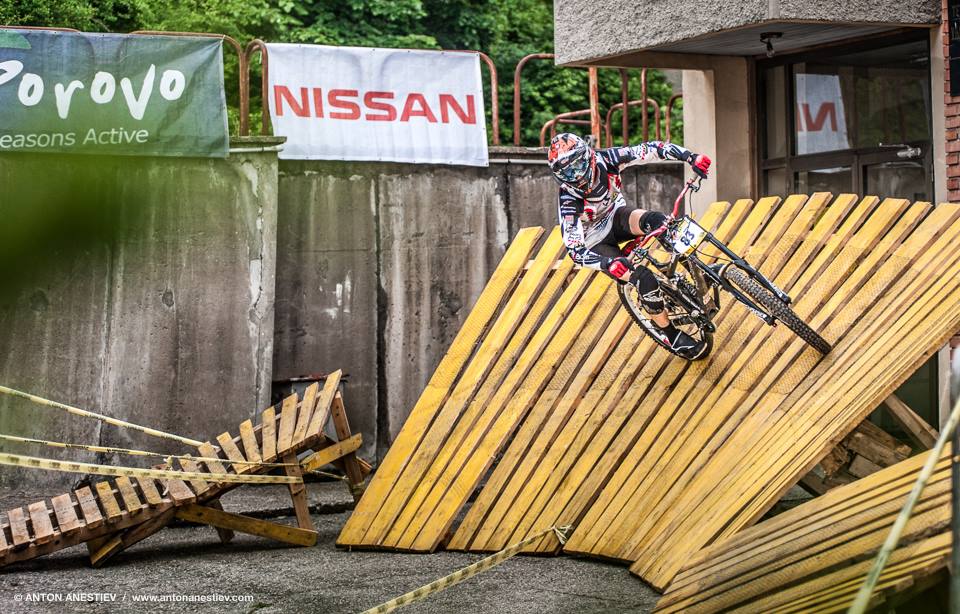 Another view of wallride with Philip Stanev.
Ivan Kolev ripping it on long stairs section – 3rd place.
Followed with drop off by Stivian Gatev – 1st place.
Another view of the drop and following obstacles. Bobie Krumov dropping in – 4th place.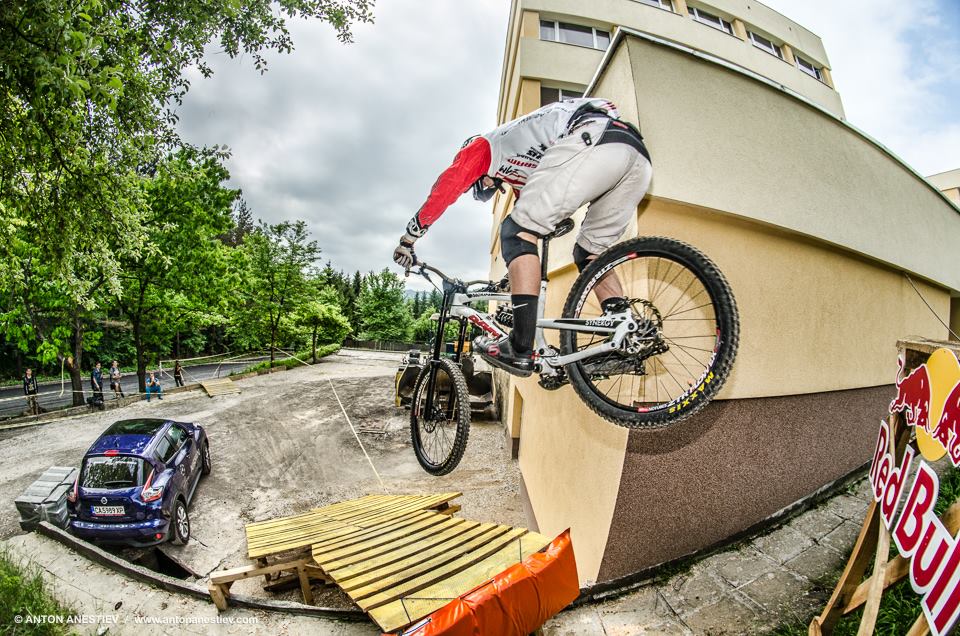 Denislav Angelov cornering on wet and slippery stairs.
Stairs section ended with jump which riders enjoyed, especially Kaloyan Kisyov – 17th place.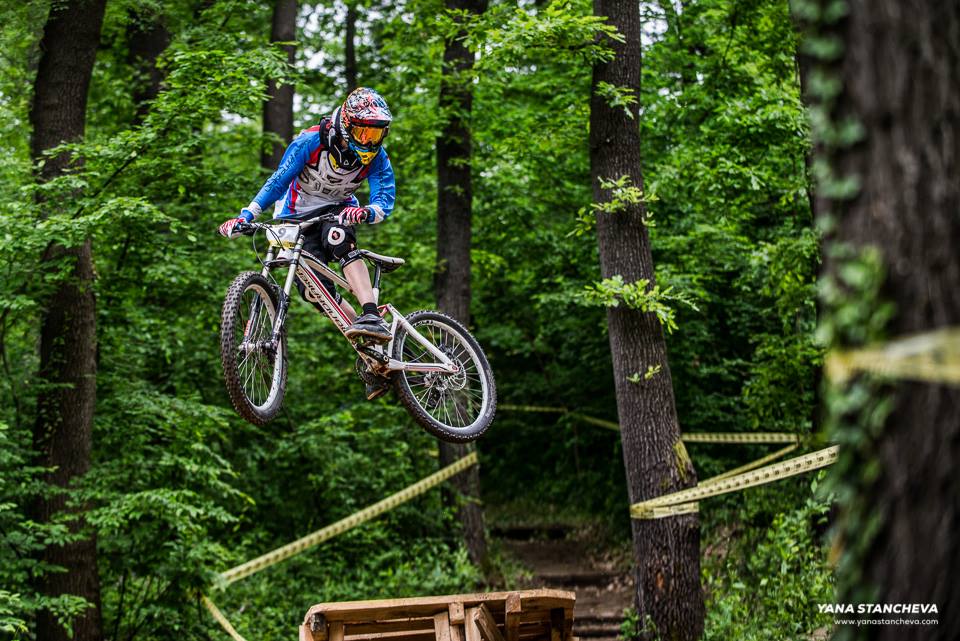 Yordan Anchev comming into urban section – 1st in Kids category.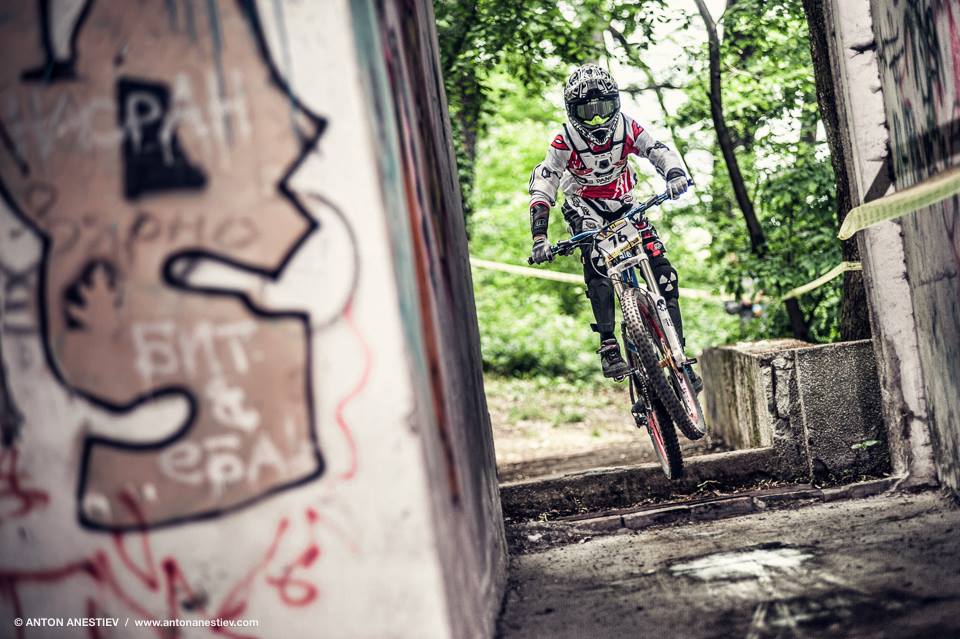 Track showed off once remarkable Soviet architecture. Nikolay Yelev riding through ruins.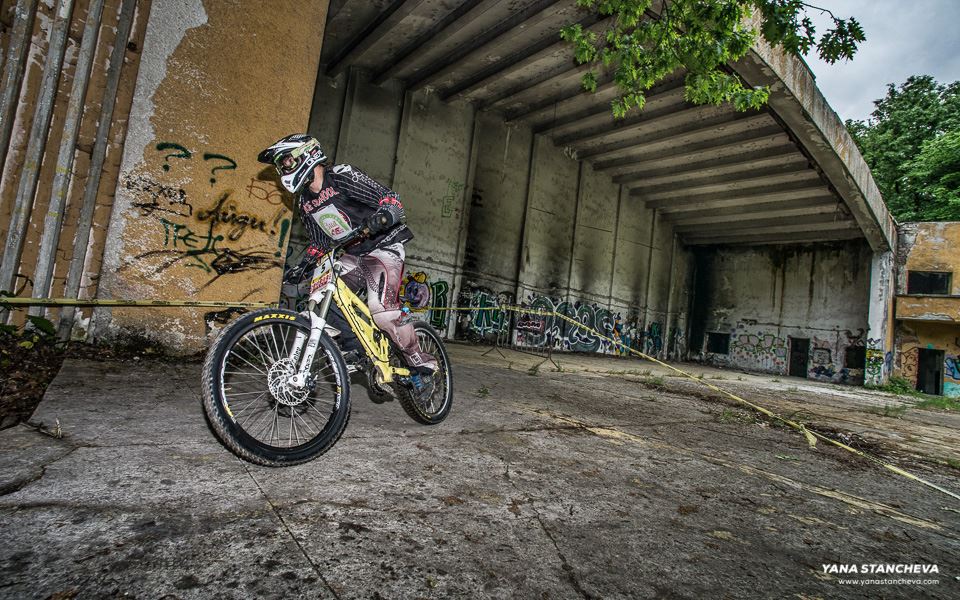 Small stairs and back into the woods again with Teodor Mavrodiev – 14th place.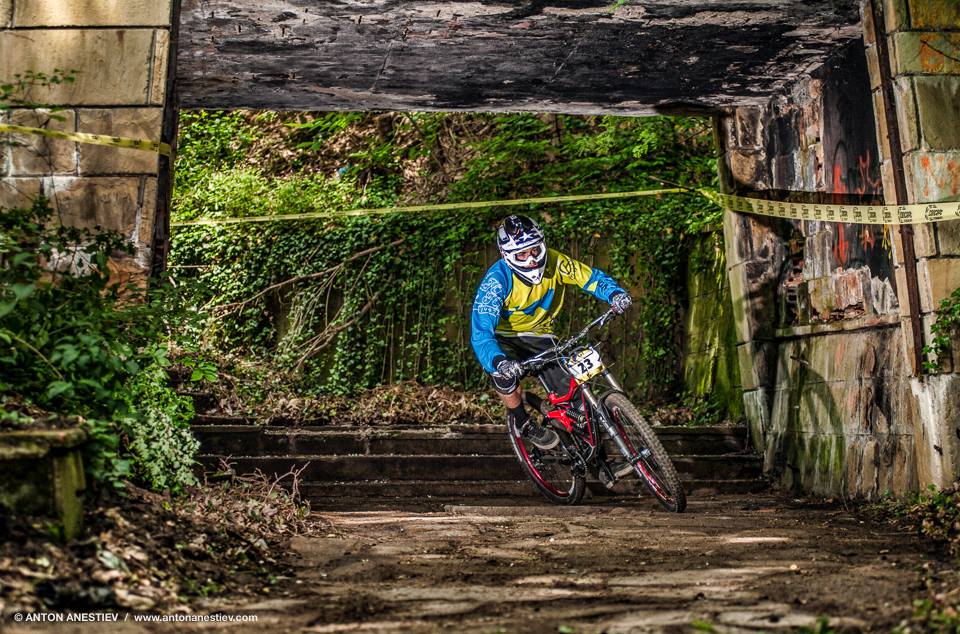 Another view of the interesting passage with Kaloyan Kisyov.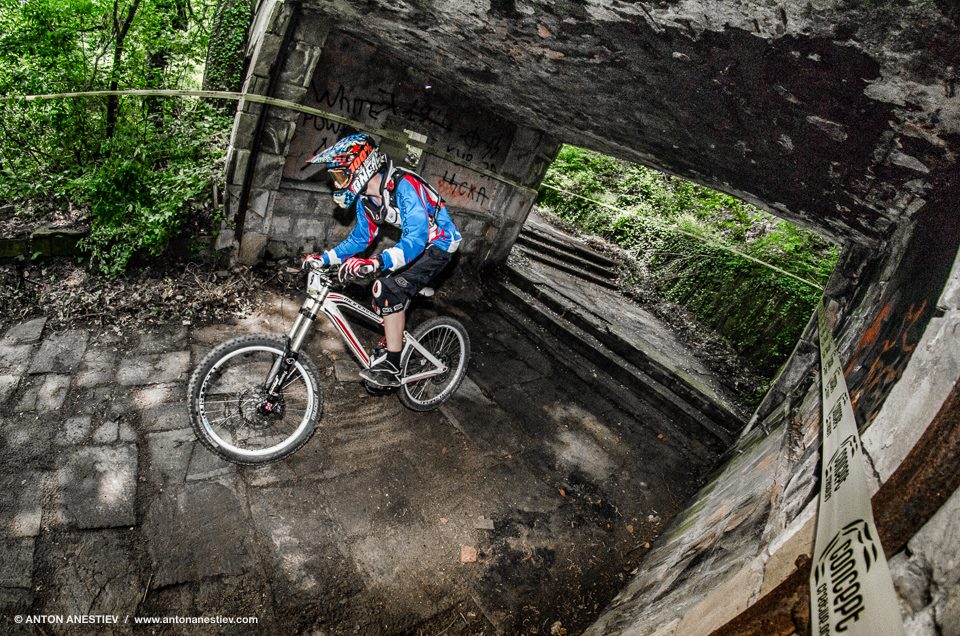 Many riders tasted ground and stairs just before finish line. Pavel Stefanov crashing Kung-fu style.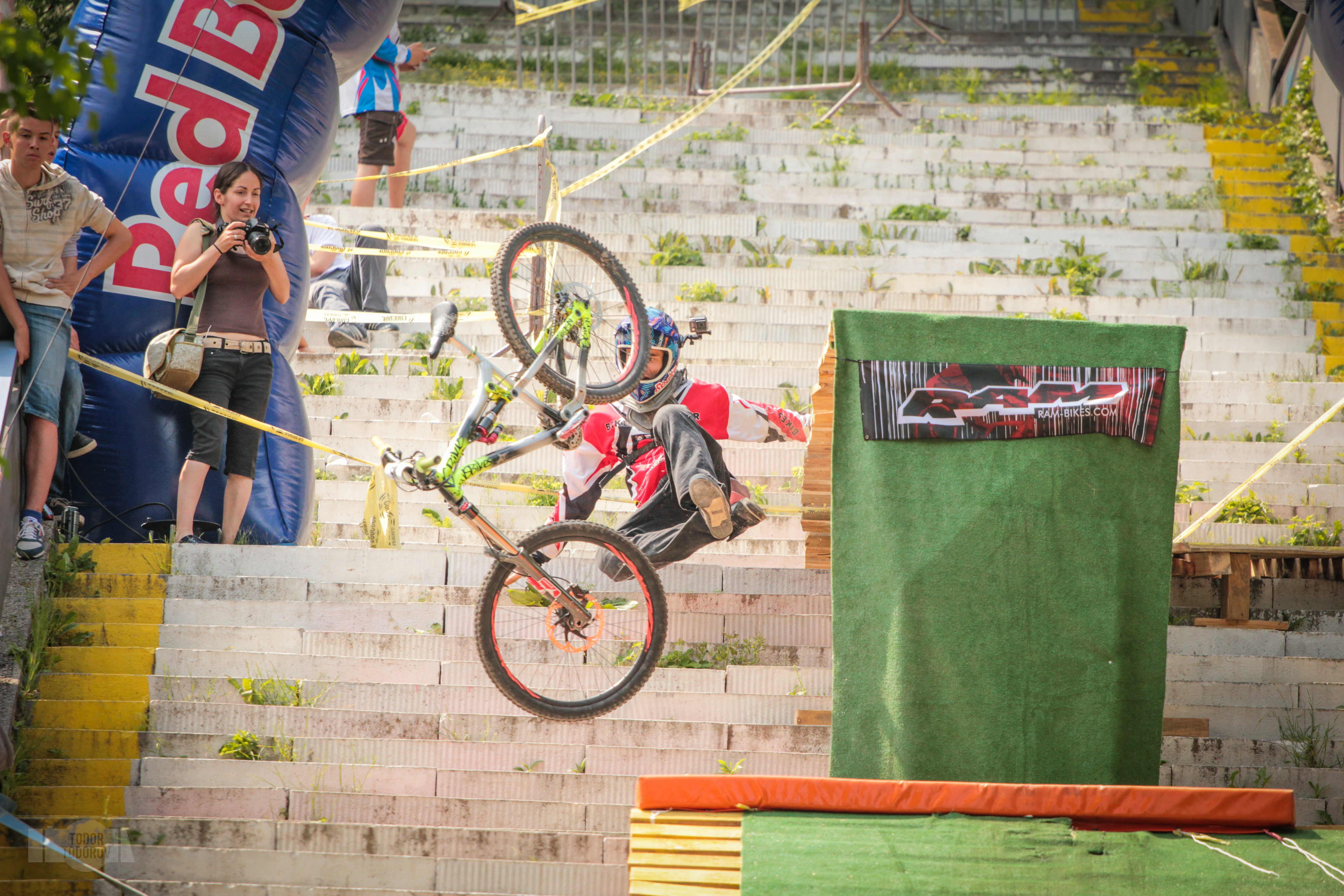 And we have a moral winner. Crowds cheered him wildly. Check video from the fall.
Mikael Pamukchiev dropping off in style – 20th place.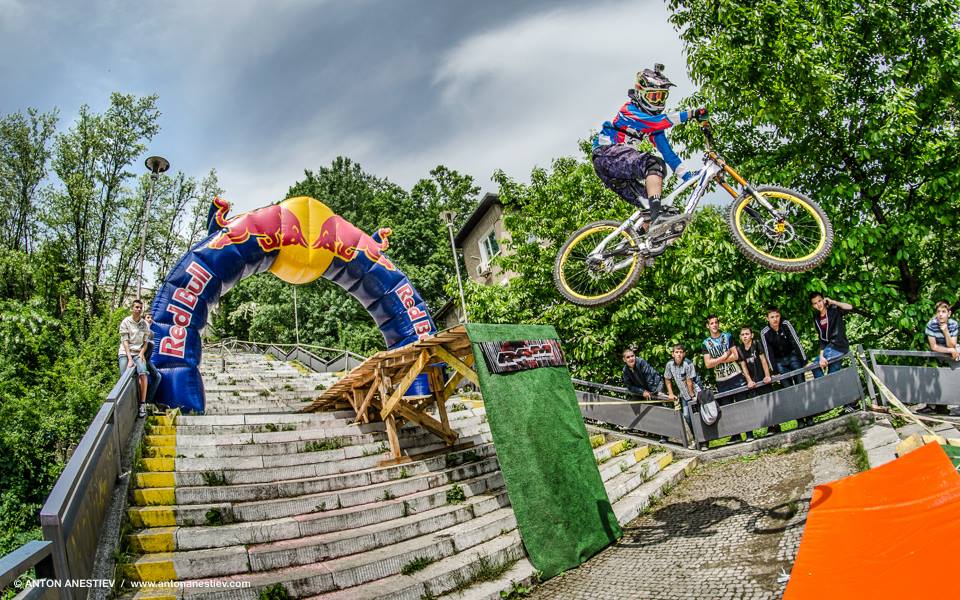 The quickest rider of the event crossing finish line.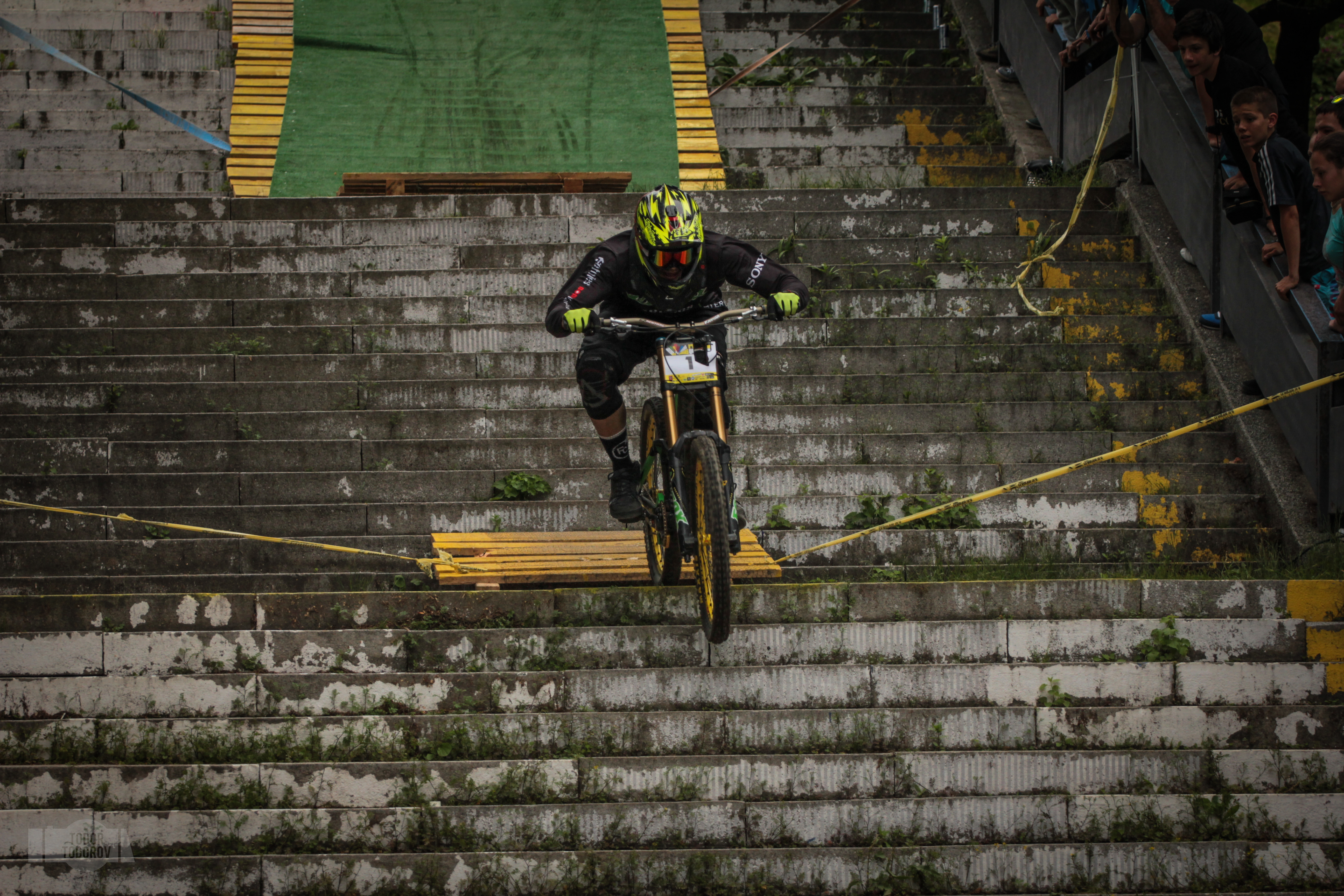 Stivian Gatev celebrating first place here in Gabrovo.
Overall results:
Stivian Gatev (BUL) 1:38.38
Todor Kirov (BUL) 1:40.74
Ivan Kolev (BUL) 1:41.05
For more results in different categories visit Mtb-bg.com.
Stivian Gatev already leads in the series up by 40 points since Rosen Kovachev has crossed the finish line on 6th place. Only four riders have a potential chance to win the series after race in Gabrovo:
Stivian Gatev 180 points (80 + 100)
Rosen Kovachev 140 points (100 +40)
Ivan Kolev 130 points (65 + 65)
Todor Kirov 120 points (40 + 80)
Each race 25 riders are getting points starting with 100 points (1st), 80 points (2nd), 65 points (3rd), 55 points (4th), 40 points (5th) all the way down to 1 point for the last – 25th place.
So who do you think will be crowned Bulgarian urban downhill champion? Soon to be decided.
Headcam footage of Martin Nenchev – 1st in Junior category, 10th overall:
Headcam footage of Milan Dimov – 1st place in Masters category:
Photo: Anton Anestiev, Yana Stancheva, Todor Todorov
Source: Conceptcreative.org, Mtb-bg.com