Townhill Tour came to Srebrna Gora for the first time
Only couple of months ago organizers of Townhill Tour introduced new location of their series – Srebrna Gora. It completed the Townhill Tour calendar including races in Bystrycza Klodzka and Klodzko. We were excited to bring you fresh information therefore we made a little trip to Lower Silesian Voivodeship where Townhill Tour races are held. We registered in the race and enjoyed the event.
A car with two riders: Maros Lucivjansky and Vitezslav Stransky, the organizer of UL-LET race in Czech Republic, crossed polish borders and arrived in Srebrna Gora in the afternoon. Trackwalk was the first thing we did after arrival as we are used to see in international urban downhill races.

Track was 1800 meters long with elevation of 230 meters. Start was located under Fortress Strebrna Gora, a former military fort constructed in 18th century during Prussian Era.
First half of the track included singletrack with several jumps and berms.
Singletrack went smoothly from woods to meadow and finished with short steep section following by left turn into 180 turn onto cobblestones and tarmac.
Two long straights followed by sharp turns forced every rider to pedal hard. The second one ended with wooden berm.
Track really showed who was prepared and fit for the race. The berm ended on gravel road which led to first stairs. The entrance to the stairs was very slippery even in dry conditions.
Track suddenly changed from long straight sections to pure urban downhill fun. Riders were jumping the stairs with landing on another set of stairs.
Nice clean landing by Lubos Dolejska – 5th place.
Track continued with long left turn into the main square finishing with long set of stairs and drop off railing. Michal Fratrczak jumping stairs – 12th place.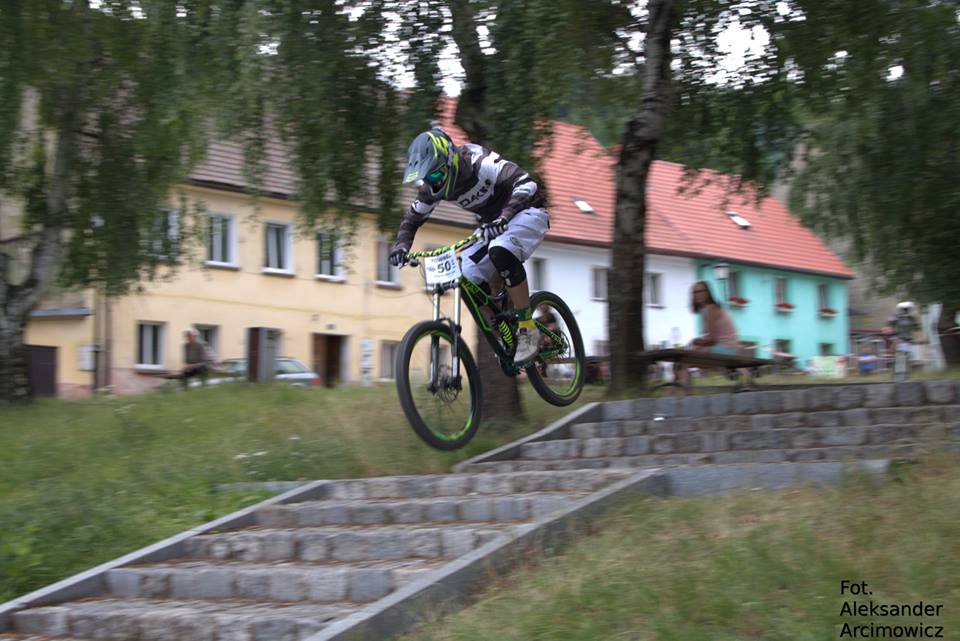 Piotr Szczgiel dropping in.
Next part ended with difficult stairs section included three to six stairs with irregular flat section in between. It was something for pro riders.
Adam Bebel flying through stairs section.
Kuba Wicher is used to gnarly technical urban downhill lines – participated in City Downhill World Tour Bratislava 2015.
And reaching finish line – 7th place.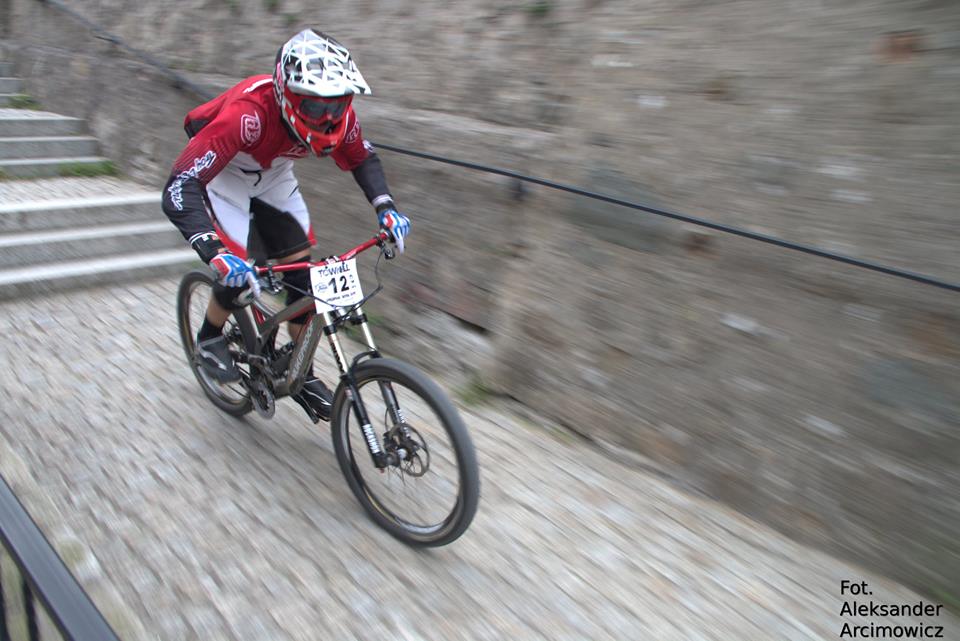 We liked that transport from finish line to start was arranged. Van took only 8 riders from the beginning however it could take 15 bikes. It got better later with additional car. Race finished a little later than expected. Nevertheless, it did not have inmpact on quality of race.
The race included three runs, from which two better runs were counted together and represented official results. Vitezslav and his hardtail were suffering on each stairs section, His last run was much better, he improved by seven seconds . I was on bike after one month so 17th place from 47 riders was ok.
Lets move to top riders. First place was taken by Przemyslaw Szyndlarewicz who already won first race in Bystrycza Klodzka. Second place went to hardtail rider, Tomasz Nadarzynski and third to Wojciech Erstling. Konrad Zamojski, despite of massive crash in his first run, managed to have second quickest run and took fourth place in total. Fifth place went to czech rider Lubos Dolejska.
Results:
Przemyslaw Szyndlarewicz (PLN) 4:30.61
Tomasz Nadarzynski (PLN) 4:36.56
Wojciech Erstling (PLN) 4:36.64
Konrad Zamojski (PLN) 4:37.36
Lubos Dolejska (CZE) 4:40.06
Best riders from the left.
For complete results in different categories please visit Ultimasport.pl.
Podiums in Full category.
In the end, weather was perfect, atmosphere during race was pleasant, crowd cheered riders wildly. Srebrna Gora could be next location where urban downhill races are held every year.
Official video from race:
Headcam footage from the winner – Przemyslaw Szyndlarewicz:
Photos: Park Rowerowy, Jacek Arcimowicz
Source: Townhill.pl, Srebrnagora.townhill.pl