Czech Downtown Tour moved to Rakovnik
Town Rakovnik which is about 60 kilometers western from Prague hosted already seventh year of urban downhill race in his streets. The event was organized under first year of Czech Downtown Tour. Exactly 70 riders competed in three categories: Men Full, Men Hardtail, Women.
Organizers try to make the track a litle different each year. The track was 850 meters long with elevation of 52 meters. There was a 5.5 meter long gap added to make the trail even more attractive for riders as well as crowds.
The racecourse started with singletrack going through small park. Stepan Cerveny, the main organizer of the urban downhill race, put a number plate 78 on his bike and finished 18th.
Natural singletrack lasted 20 seconds. Jan Baloun finished 23rd.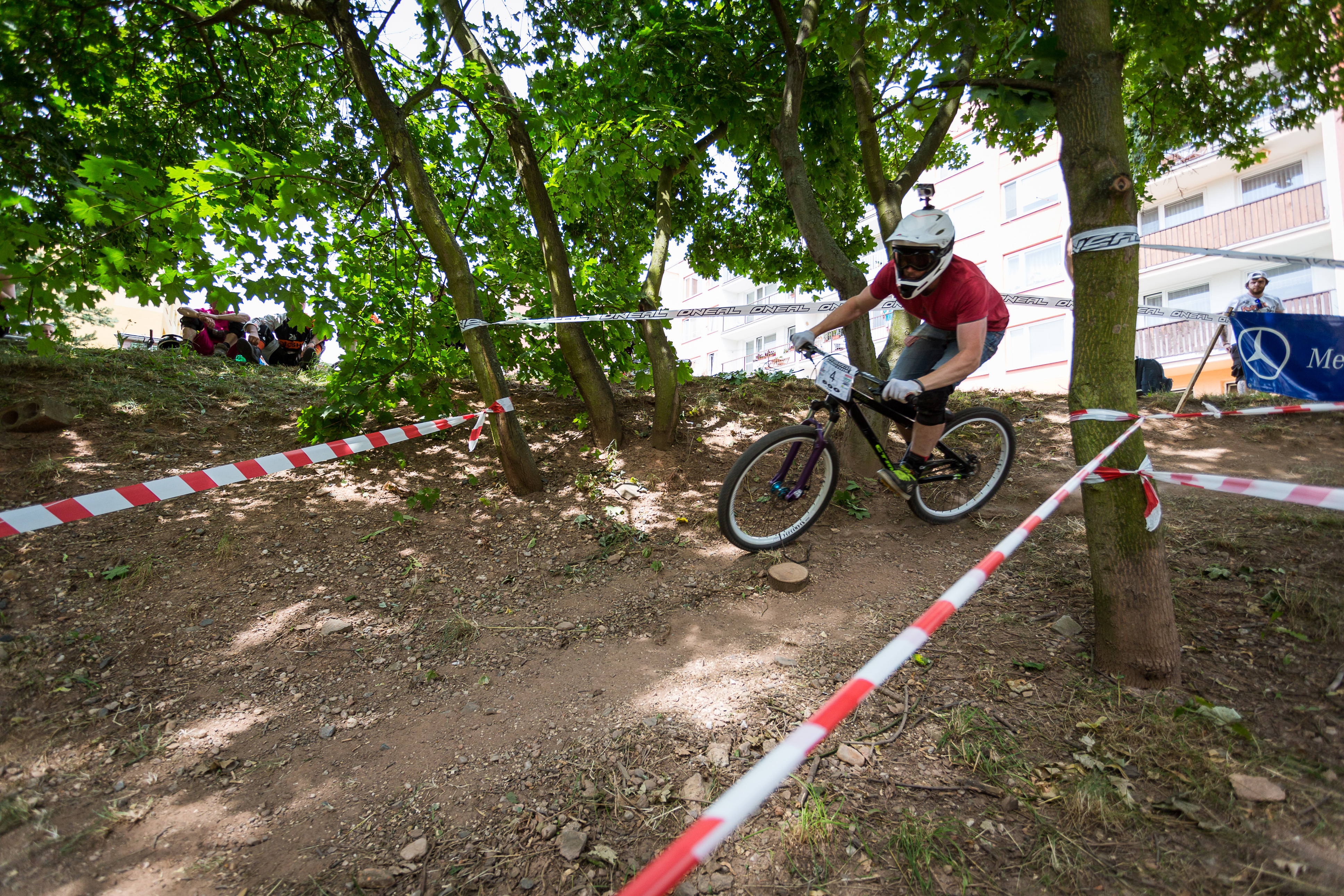 Riders jumped over classic Czech car, Skoda Forman. Jakub Cech flew over the jump – 2nd place.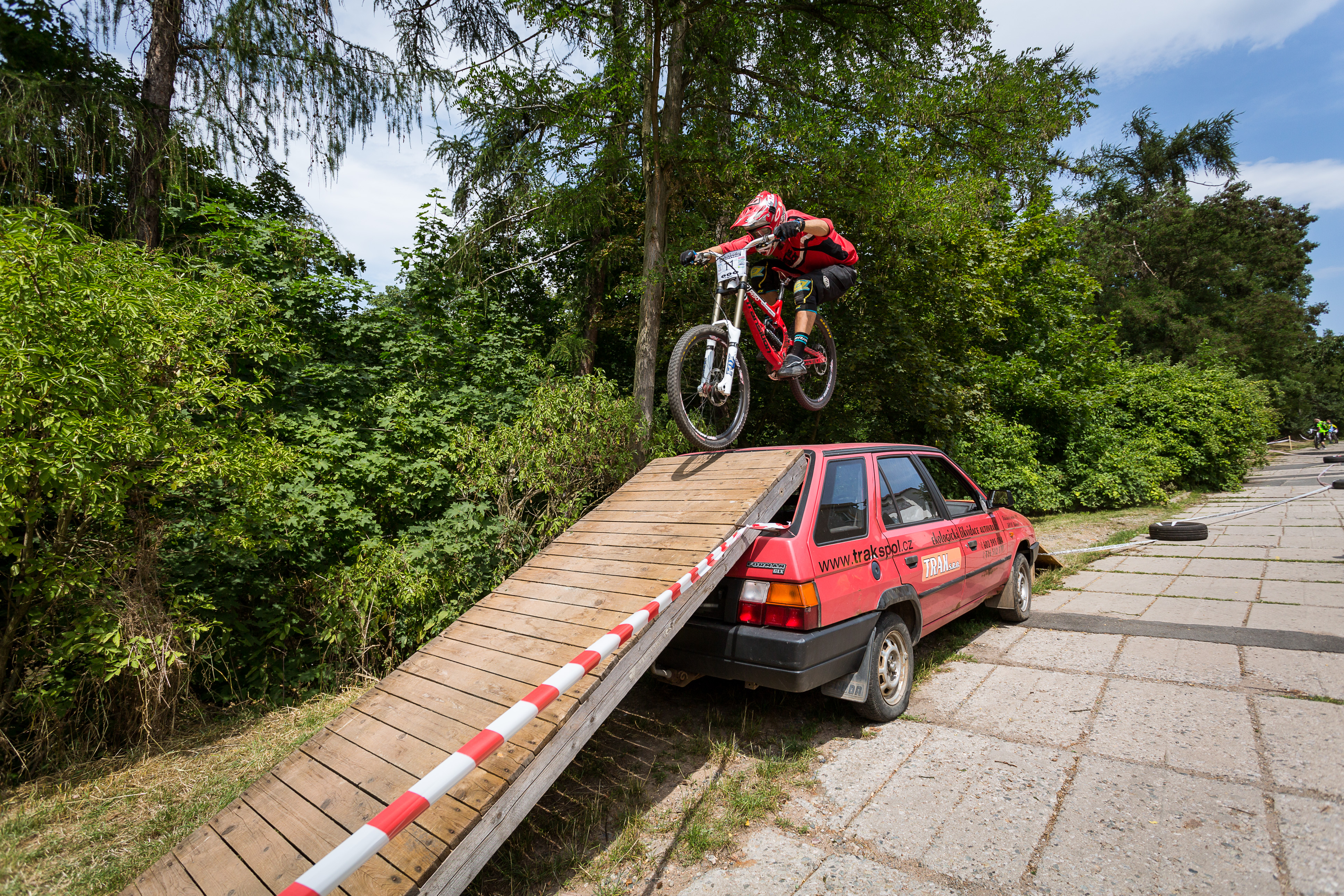 Riders jumped 5.5 meters long gap in style.
Alexandr Sidor flew over the gap and took 1st place.
Riders had to go through a rock garden, not really an obstacle that can be found usually on urban downhill racecourses. Dominik Wins jumping the rocks – 33th place.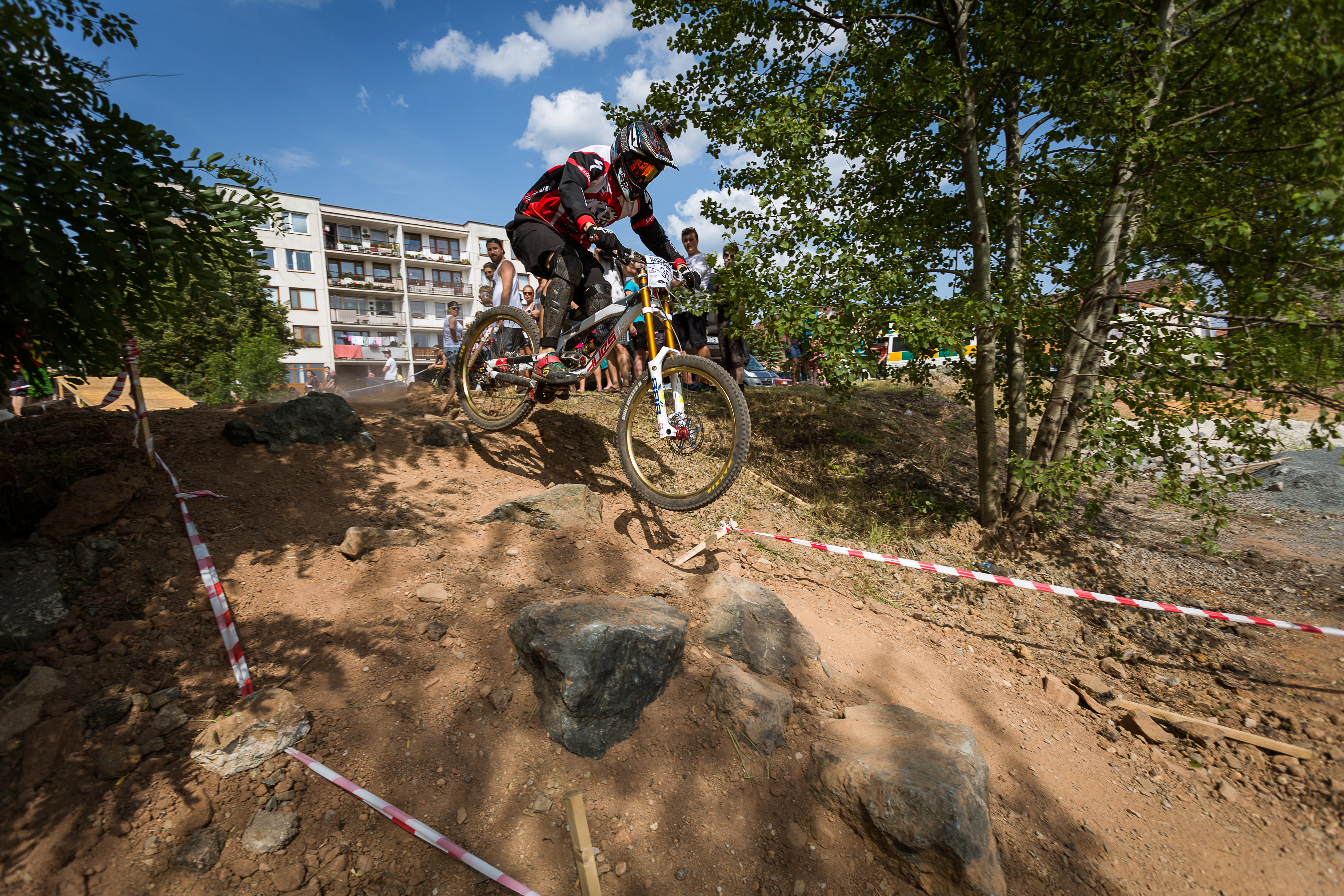 Riders could rest a little on roundabout. Ondrej Kudrna took 15th place.
Probably the thinnest section on the track – riders had problems to even fit their bars there.
Michal Beck, the pink rider, putting on a show on 5 meter long jump over car – 25th place.
Alexandr Sidor putting on some style.
Not many riders got enough speet to land properly on last jump. Adam Zich jumping the last obstacle into the finish line.
Overall race results:
Alexandr Sidor (CZE) 1:37.030
Jakub Cech (CZE) 1:37.748
Adam Semerak (CZE) 1:37.926
Overall podiums as well as Men Full category podiums.
For complete results please visit Sport-base.cz.
Although, there are no stairs on Rakovnik urban downhill track, the course is enriched by many jumps. The event in Rakovnik celebrates its seventh year and proves that it has earned its place in urban downhill races in Europe.
Official video of the event:
Headcam footage from Dominik Wins:
Headcam footage from Dominik Dostal:
Photo: Petr Divis, Honza Brabak Brabec, Klara Vaneckova
Source: Downtow Rakovnik, Rakovnickecyklovani.cz